How to choose the best travel insurance policy can be mind boggling. Especially as there are now many options available online. You need to ask yourself; do the cheapest deals adequately cover your type of travel?
It is exciting to travel and explore foreign lands. But it can also attract unexpected mishaps and extra costs. And because you are so far away from home, these mishaps can be quite expensive.
This is the reason why, when I was a travel agent, I always recommended to holiday makers to buy travel insurance. In fact, I never fly without travel insurance myself. It is for your protection, a handy safeguard should anything unforeseen happen. If nothing bad happens then that's a bonus. If it does, then it's a bonus that you have travel insurance.
My simple advice is don't chase the lower price. Go for the policy that adequately covers the important benefits for the best price.


The main reason why to buy travel insurance
I never forget the story of one my clients. He was thankful that I convinced him to buy a one week travel insurance policy for his Bali holiday. He thought he wouldn't need it because he is only travelling for one week.
But halfway through his holiday, he somehow managed to fall off his first floor balcony. Consequently, he broke many bones. He was able to call the 24 hour emergency assistance number. They advised that due to his injuries, it was best for him to be flown back to Australia for medical attention. Of course they did a blood test first. If there was alcohol or drugs in his system then he was liable for all the costs. Luckily he was clean and was flown back to Australia that day. For his $68 insurance policy he saved a $60,000 emergency flight back home.
For me, 90% of my travel insurance claims were for medical reasons. Other claims have been for damaged personal affects, like when my camera got water damage from a freak wave.
So I hope the above story convinces you why you should at least have travel medical insurance before you depart on your holiday adventure.

Using Australia's medicare card overseas
The biggest unexpected expense any traveller faces is medical fees. Generally we can't use our own health insurance in other countries. However, Australians can use their Medicare card for certain services in UK, Belgium, Finland, Italy, Malta, Netherlands, New Zealand, Norway, Ireland, Slovenia and Sweden. This is through the reciprocal healthcare agreements. Note that this agreement does not include emergency flights back to Australia if you're unable to continue with your holiday.


How to select a reputable travel insurance provider

These days there are so many options available. You can find many travel insurance policies selling online. So how do you know which to choose? Which is the best travel insurance for you?
There are three easy ways to check:
Personal recommendations:

Ask for recommendations from your family and friends. Especially your friends that travel a lot. My friend simply posted a FB Recommendation. Hearing about other personal stories and experiences with a travel insurance provider can prove to be very helpful. Ask them how easy was it to contact the company, to make a claim and how quickly did they get their money back. If they had a lot of hassle, then steer clear of that company.


Brochure collecting:

Check with a couple of travel agencies in your area to see which travel insurance companies they recommend. Travel agencies only deal with reputable companies because they need to ensure that their clients are well looked after. You can then either purchase from the agency or directly online.


Online reviews:

Sometimes you may find really cheap deals online from companies that you or your friends have never heard of. Although the price is attractive, just Google for any reviews on that particular company before you buy. If there are a lot of negative comments about the company, then perhaps it's best to look elsewhere.
Remember; be diligent with your research because you don't want to be left stranded in a foreign land.
TG Tip: Check out Covermore travel insurance by clicking on the image below. I have used this company on many of my travels and their cover and claims service is excellent.
The essential benefits to look for in a travel insurance policy

Once you have made a selection of two or three travel insurance policies, its time to compare their benefits.
The aim here is:
Ensure the benefits covers all your needs for your travels (ie. read the exclusions).
Get the best bang for your buck by checking the total amount covered for each benefit. For example, $100,000 medical cover won't cut it for a trip to USA/Canada as their medical fees are one of the most expensive.
The following are the top 6 benefits that all travellers should look at and compare:


1. Overseas medical and dental
You will want cover from minor illnesses to major accidents. Therefore, it is recommended a high medical amount of at least $1 million.
However for a USA/Canadian holiday, the best policies are the ones that offer unlimited medical benefit. The average cost for a hospital stay is about US$10,000 per day! It can be more, depending upon your medical condition. Hate to think what an emergency operation would cost.
Also worth noting is if you have a pre-existing medical condition, you may need to disclose it. Most travel insurance providers will provide a list of pre-existing medical conditions they will automatically cover on the policy. And they will advise whether you are required to complete a medical form or not.
Pre-existing medical conditions that typically don't require a completed medical form from your doctor could be asthma, high blood pressure, high cholesterol, allergies and other selected ailments. As long as you haven't had treatment within a specified period prior to your holiday.
Other pre-existing conditions will require assessment with a medical form to be completed by your doctor. The travel insurance provider will then decide if they will or won't cover you for that particular condition. If they do, they may add an extra cost to your policy premium.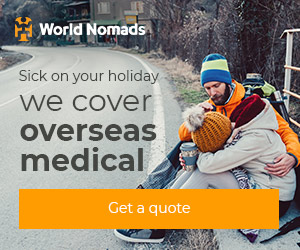 2. Luggage and travel documents
Policies generally display one total amount for all luggage. But it can be misleading because they do tend to place limits on certain types of personal effects.
Therefore, you need to research a little further and read the fine print – look for the sub limits. Check the maximum limits they place on expensive items such as cameras, video cameras, laptops/tablets, smart phones and jewellery. They will also have a sub limit called "other items". So basically there is a pre-determined limit for everything you have in your suitcase.
Something caught me by surprise during my 2017 RTW holiday when I was making a claim on my water damaged camera. They now use a depreciating calculator on electronic items instead of covering you for the entire original cost of the camera. By the time they deducted a set percentage for each month I've owned the camera plus the excess, I didn't get much back. So the newer the camera, the less depreciation they will deduct.
Therefore, if you are bringing expensive electronic items with you, check the benefit limits per item. And how they calculate the depreciation in the event of a claim.
Also check if they offer the ability to increase the item limit by paying an additional premium.


3. Car rental excess policy
If you are planning to rent a car while on holiday, then you definitely should purchase travel insurance. And the first thing to check is the car rental excess benefit.
Basically you can save money instantly. Because there will be no need to purchase the car rental agency's own insurance to reduce the amount of excess. The travel insurance will automatically cover it.
Plus the travel insurance also covers you for legal liability.


4. Amendment and cancellation costs
In the unforeseen event that you need to cancel before departing home, check that this benefit amount will be enough to cover the cost of all your pre-booked travel arrangements. For example, airfares + accommodation + bus tour + cruise + train travel + carhire.
If you think you may need to cancel your holiday for a particular reason, check the exclusion notes. This is where they list all the circumstances that they will not cover for. For example, you changed your mind, job requirements, failure to obtain relevant visa etc.
The same exclusions will apply for cancelling or amending certain parts of pre-booked holiday while you are travelling.


5. Included adventure/sporting activities
Some of you are more adventurous in nature while others like relaxing by the pool.
So if you're the adventurous type, ensure that your favourite activity/sport is included in the policy.
Adventurous activities can include abseiling, archery, ballooning, bungy jumping, horse riding, jet boating, jet skiing, kayaking, paragliding, parasailing, skydiving, white water rafting and more.
The more extreme sports are generally excluded. Unless you choose a travel insurance provider that specialises in travel adventures, like World Nomads. Not only do World Nomads cover 150+ adventure activities, they also provide cover for 'normal' holidays! Get a quote by clicking on the image below. Or read my World Nomads Travel Insurance review.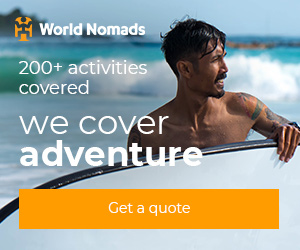 6. Emergency assistance
Ensure the insurance company offers a 24 hour emergency assistance service. This is an invaluable service to help you;
find a medical facility.
pay your medical bills directly while you receive medical attention (if the claim has been approved).
make the decision if you keep travelling or if its more appropriate to be flown home.
help with lost passports.
travel documents or credit cards and help with rescheduling your travel plans in an emergency.
Other benefits

There are many other benefits included in travel insurance policies. Such as delayed luggage allowance, money, travel delay, resumption of journey, hijacking, disability, accidental death and personal liability.
They're all nice to have but in my opinion are not essential. I've never heard of anyone making claims on any of these benefits. So they probably don't happen very often.
A couple of times my flights have been delayed but I was always adequately compensated by the airline. One time I experienced a 5 hour delay for a Niagara Falls to New York flight. Continental Airlines provided meal vouchers for me and my family who were seeing me off. Another time, I missed my flight connection in Kuala Lumpur due to a flight delay. As I had to wait 18 hours for the next flight, Air Asia provided me with a hotel room and 3 meals.
TG Tip: if your luggage has been lost or delayed, by international law the airline is required to provide you compensation until your luggage has been retrieved and returned to you.
Things to remember

You must have receipts of all goods of significant value if you want to make a claim. If I hadn't kept the original receipt of my camera, I would not have been able to claim for the water damage.
You cant claim for items that you leave unattended in a public place, in an unlocked vehicle or in a vehicle overnight (including the boot/trunk).
In the event that any goods are stolen, wilfully damaged or accidentally lost, you must make a report to the Police or to the nearest government agency or authority. This must be done within 24 hours of learning of the theft, damage, or loss and the report must list and describe the missing or damaged goods. The insurance company will want a copy of this police report.


For Australian Credit Card travel insurance

Australians who are holders of platinum frequent flyer credit cards may have free travel insurance included. All of the above check points still applies.
In the early days they had a lot of exclusions. But these days the benefits tend to resemble more closely to travel insurance policies sold by travel agents. However, its still a good idea to check the included benefits and exclusions.
To qualify for this free travel insurance, you need to check that you comply with the Eligibility Criteria:
Age limits.
Hold return tickets before you depart Australia
Satisfy the minimum travel purchase amount that must by paid using that particular credit card.

The best travel insurance policy for you

So don't go by price alone. Before you buy:
Check it covers at least the 6 main benefits listed above.
Check the limits are to your satisfaction. For example, enough medical cover, enough luggage limits to cover any expensive items that you will bring.
Check the exclusions for each benefit.
Check it will cover the activities (adventure and sports) you like to do on holidays.
How has travel insurance saved you in the past? Where there times you wished you had bought travel insurance?