How many times have you been sick while travelling abroad? I don't think there is anyone on this planet that has never been sick at least once. For me getting sick abroad is a common. You go on holidays to relax and recoup. But you either fall sick or injured during your stay. Worse still, you arrive home sick and need to take extra time off work.
I always seem to fall sick in some form while on my adventures. This is why I always buy travel insurance. Even though my illnesses are usually minor, it's handy for my travel wallet when I can recover doctors' fees from my travel insurance policy.
Minor ailments are wide and varied. Below are four examples of my holiday illnesses for which I was able to claim on travel insurance.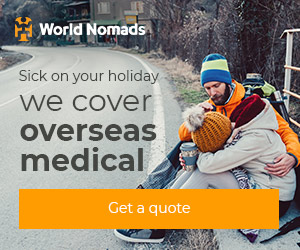 Nairobi – the most expensive doctor
I'm sitting in Harare airport with major stomach pains. They started as minor aches two days earlier. A couple of other tour group members went to a medical centre the day before as they too didn't feel well. Getting sick abroad, especially in places with below average medical care can be a nightmare. So I declined hoping my tummy bug will just disappear on its own. But I was wrong.
At the airport I sat keeled over in excruciating pain. Then I had to run back and forth to the toilet. Everyone was running after me as I kept leaving behind my bags and ticket wallet everywhere. I had no care for my 'stuff' as I thought I was dying.
On the plane, the flight attendants felt so sorry for me. They moved me to a row where all the seats were empty so that I could lay down. And each one brought to me their concoction of natural remedies. Nothing helped.
Finally I arrived at Nairobi's exclusive Norfolk Hotel looking very pale. So the hotel rep called in a doctor to visit my room. I was in no state to walk.


The doctors' visit
A young tall lanky doctor walked in. He didn't speak a word of English, so I couldn't explain my symptoms. He took one look at me and was somehow able to make a diagnosis. Out of his briefcase, he pulled out one large black oval shaped tablet. It didn't came out of a bottle, nor was it wrapped with identifying paper. I had no idea what it was, but I swallowed it anyway. Surely it can't make me feel worse than I already did.
Then he hands me his bill. USD100 thank you very much. My eyes nearly fell out of my head. He was only there for five minutes. You see, it was the early 1990's and US$100 was a lot of money.
Reluctantly I paid as I thought I was dying anyway. And I promptly went to sleep while the others enjoyed a night out. I woke the next morning with no pain whatsoever. It was completely gone. I don't know what illness I had. Nor did I know what that big black tablet was. But I was ever so grateful. I was so energised that I was able to join the rest of the tour group for breakfast at the famous Giraffe Manor. What a treat it was to watch giraffes poking their heads through the windows while eating a scrumptious english breakfast.
Canada – need eyes to see Cape Breton Island

I woke up one morning at Montreal's Youth Hostel with tiny red dots on my legs. They looked like mosquito bites. Nothing unusual for me as I am a natural mosquito magnet.
The next morning those red dots had swelled considerably. So then I thought perhaps I had bed bugs and promptly washed my linen and sleeping bag. Later in the day I noticed my wrists and ankles started to swell.
On the third day, more welts and red dots appeared on different parts of my body. This was now getting weird. Perhaps I was allergic to some sort of pollen. In any case, my friend and I proceeded with our travel plans to Cape Breton Island.
Little spots started appearing on my face on the fourth day. Now I think I have measles or some kind of unknown disease.
However, thankfully over the next four days while travelling in Prince Edward Island, the dots and welts started to disappear. Maybe I was allergic to Montreal!
But things changed when I woke up after my first night in Cape Breton Island. Everything was dark. I called out to my friend "Anita, I can't open my eyes". She got out of bed and then I heard "Oh my god, your eyes are the size of golf balls". Now my whole body was completely covered with itchy red welts, including my face and scalp.
The hospital visit
The doctor at Cape Breton Regional Hospital told me it's a rash and had no idea what was causing it. He said he could conduct the skin prick test which tests me for fifty of the most common allergies. But he said we run the risk of me waiting for 2 days for results only to find that I was negative on all of them. So he handed me a box of antihistamines and sent me on my merry way.
I paid the hospital $200 and hopped into our rental car. We continued with our plans to drive around the whole island for the day. Luckily the medication worked quickly and I was able to fully see the wonders of the autumn colours.
NEVER KNOW IF YOU ARE GETTING THE CHEAPEST PRICE FOR A FLIGHT?
Discover the 13 different ways of how to find cheap flights online.
Download the "Cheap Flights Guide" today.
Nepal – shook me to the core
The big Nepal earthquake in 2015 shook me in more ways than one. I won't go through the actual experience in this post, however you can read it here. But I will share with you the aftermath.
On the day of the earthquake I did feel an itchy spot right beneath the sternum. I didn't think too much about it. I thought maybe the yoga cleansing exercise through the solar plexus the previous day stirred something up. But the next morning when I made an inspection, I found a rash - a group of itchy spots in the same area.
Now I was a little concerned. But in the aftermath of a huge earthquake in a country with a limited medical system, I didn't have much choice. On the radio they announced do not come to the hospital unless you are seriously bleeding. I couldn't even go to a doctor's clinic as the government ordered everyone to stay outdoors for 72 hours, due to all the aftershocks.
So I had to treat myself. I thought maybe it was another allergic reaction, so I found some antihistamines in my travel first aid kit. It didn't seem to have any affect. But luckily the airport re-opened on the third day after the earthquake and I was able to fly out.


Homeward bound
On the flight from Kathmandu to Kuala Lumpur, I noticed that the itchy spots increased in size and developed a white centre full of puss. I now had blisters forming and worry set in. We landed in K.L. late and consequently missed the connecting flight back to Australia. Air Asia kindly gave us a hotel room for the 18 hour layover. In my room I took a photo of my blistering rash and asked my nursing friend back in Perth what is it. "OMG, go and see a doctor now" was the response.
Well I had 18 hours to kill, so I went to the nearby medical clinic. The doctor confirmed to me it was herpes zosta. "Whaat, how did I get herpes?" my brain cried. I later found out it is more commonly known as shingles. The doctor said she couldn't give me medication, and that I have to go to a hospital. So I then took a 20 minute taxi ride to the closest hospital. The next doctor confirmed the same and almost didn't give me permission to fly. All she could offer was lotion to cool down the itching and heat. I missed the window of opportunity to take the medication – which is within 12 hours of symptoms appearing).
All up the total bill, cost me $187. Plus another four weeks off work to recover. The travel insurance policy cost me $154 for that trip, so I definitely got my money's worth for the small claim.


The K.L. bite

I joined my friends for a holiday to Kuala Lumpur in Malaysia. Every day while the boys played golf, the girls went shopping. Everyone was happy.
But after my first night, I awoke with tiny red spots over my legs. I thought to myself this must be bed bugs. So I pulled back the covers and sheets and I found 14 little black bugs still sleeping.
First stop was the hotel reception to ask for a new room. The second stop was the medical centre across the road. How convenient for me. A $150 later, I walked out with my antihistamines.
Unfortunately, by the time I flew home a week later. I could see my body was going through three different reactions at the same time. Each reaction with its own distinctive style of spot. My doctor had to put me on a course of steroids to calm it down.
I have been back to Kuala Lumpur many times since then, but never stayed at that hotel again.


How to get a full refund

In the above examples, I was able to get my money back through travel insurance. But as with any type of insurance, when you make a claim, there will be an excess amount deducted first. Typically for travel insurance policies, the excess ranges from $100-$200 per claim.
When you medical bills are under $200 for minor mishaps like mine were, you would be correct in thinking it wasn't worth taking out the insurance policy. But I still managed to get a full refund on the above incidents.
What I did was pay for the Excess Buyout fee at the time of buying the insurance policy. For an extra $25, I was able to reduce the excess to zero for any claim.
So when its time to buy travel insurance, check if they offer a nil excess fee. Not all companies will. However, it was definitely worth it for me.


A note about pandemics

In the current climate of Covid-19 spreading around the world, it's worth knowing how travel insurance companies handle this.
In all my years working in the travel industry, pandemics was an exclusion in the fine print of some of the travel insurance policies. Well, definitely the case for the travel insurance companies in Australia.
I remember back in 2003 when SARS was the pandemic of the day. I was in the UK at the time, ready to fly home to Perth. My original flight booking was London/Hong Kong/Perth. But as everyone was recommending to avoid Hong Kong, the airline changed it to London/Singapore/Perth. I still had to pay British Airways $200 to change the ticket. My travel insurance wouldn't cover the cost even though it wasn't my fault that I had to change.
So remember to check the following general rules for pandemic situations:
Are you covered if you have to change or cancel your pre-booked travel arrangements due to a sudden pandemic outbreak. Even if you bought the policy before the pandemic becoming known.
Are you covered if you become ill with the pandemic virus/disease.
However, once a pandemic has been made known to the public, no insurance company will cover you for that pandemic if you want to purchase a new policy.
As always, check the policies fine print if you are unsure.


Are you always getting sick abroad?

As you can see, little 'things' always happens on holidays. Sometimes they can lead to bigger 'things'. In either case, it's always worth buying travel insurance just in case. Cover yourself for all situations.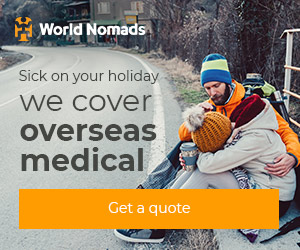 What little mishaps have happened to you while travelling overseas on holidays?